Lights On!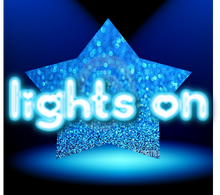 Lights On!
ライトオン!
General Information
Director
Alexis Bower
Studio
Neon Highlight
Air date
19th of August 2015 -
Theme Songs
Opening Theme
Shabondama
Ending Theme
Bubblegum Lady
Anime Guide
Genre: Drag, Japanese idol, music, contest, belief
Plot
Riley Nino Deacon, adopted in Japan, is an American boy who graduated from a college in Ohio, USA. He starts to find himself getting a job of a bank, but no one didn't accept him. Then a coach of drag queens asked him if he likes fancy clothing, which he replied yes.
A few weeks later, he was in a drag queen club in California, known as the Birdcage. The first show that he performed as famous drag queen Shimmer Shabondama changed everything for him and his life. One day, a Japanese broadcaster from ANTV asked him to join the World Song Contest, which he accepted. Will he win for his hometown and made the world fell in love with him?
Characters:
Riley Nino Deacon/Shimmer Shabondama (ライリー.ニノ.ディーコン/シムマー.シャボン玉):
Voice: Shouta Aoi (speaking), Nana Mizuki (singing)
Main protagonist. Riley is a boy from Ohio, but is adopted in Japan. He is 18 years old at the beginning of Lights On!, and was a graduated student at high school. He is a shy boy who likes fancy clothes, and also likes light stuff, so giving him a hug is an acceptance.
Paul May (ポールメイ):
Voice: Masakazu Morita
Coach of Shimmer.